Drexel University's online journal,
The Smart Set
, carries a February 4 piece by Morgan Meis on the impact of the artists represented in "Inventing Abstraction: 1910-1925," an exhibition at Museum of Modern Art in New York. The exhibition's
catalog
explains that
"In 1912, in several European cities, a handful of artists—Vasily Kandinsky, Frantisek Kupka, Francis Picabia, and Robert Delaunay—presented the first abstract pictures to the public. Inventing Abstraction, 1910–1925 celebrates the centennial of this bold new type of artwork, tracing the development of abstraction as it moved through a network of modern artists, from Marsden Hartley and Marcel Duchamp to Piet Mondrian and Kazimir Malevich, sweeping across nations and across media."
Meis comments:
Kandinsky was keen to show that contemporary developments in color theory were opening up new possibilities in man's relationship to the divine. Kandinsky became a follower of Theosophy and the infamous Madame Blavatsky. Madame Blavatsky once said, "The chief difficulty which prevents men of science from believing in divine as well as in nature Spirits is their materialism." Kandinsky saw his art as science, minus materialism, plus spiritualism. And this is exactly what Kandinsky argues in his book. In his Introduction [to The Spiritual in Art], Kandinsky wrote, "Our minds, which are even now only just awakening after years of materialism, are infected with the despair of unbelief, of lack of purpose and ideal." The job of abstract art, for Kandinsky, was to break through that materialism using the tools of color theory derived from physics. Painting, for Kandinsky, hitherto lacked the ability to reveal inner essences and real spirit. Kandinsky dismisses art that is "a mere imitation of nature which can serve some definite purpose (for example a portrait in the ordinary sense) or a presentment of nature according to a certain convention ('impressionist' painting)…"
"Inventing Abstraction: 1910-1925," will be on display until April 25 at the Museum of Modern Art in New York.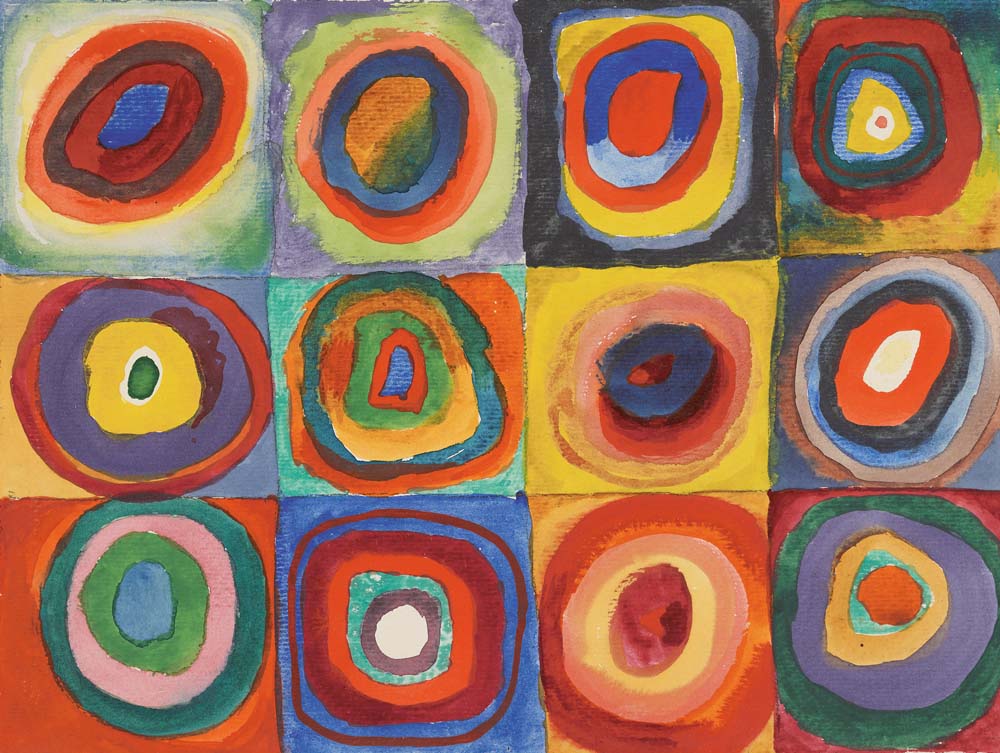 "Color study — squares with concentric rings,"
Vasily Kandinsky (1913)