*
The June 5, 2013
New York Times
reports
on a New York trend, space clearers:
Running off the fumes of the big four religions, with a lacing of indigenous ritual and a dash of early 20th-century palaver — Madame Blavatsky by way of L. Ron Hubbard — the shamans and healers, mystics and mediums of the last century's not-so-New Age have become indispensable exterminators for certain homeowners in New York and other big cities, who summon these psychic scrubbers to wash their apartments and town houses (as well as their offices and even some events) with ho-hum regularity. They get more publicity than most decorators and architects, and have armfuls of testimonials from brokers at companies like Core and Corcoran.
"last century's not-so-New Age" !
*
The Italian website and magazine,
Artribune
, carries a piece on the American iconographer Harry Smith, linking him to Mme. Blavatsky. Smith's
Heaven and Earth Magic
, "
which remains his best-known film, made in different versions between 1957 and 1962
," which be shown at the Venice Biennale until the end of November.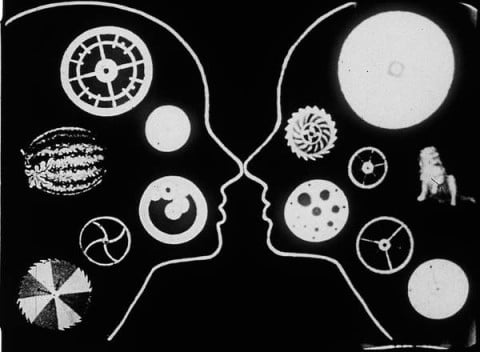 From Harry Smith: Film No. 12 (Heaven and Earth Magic)
*
Jason Colavito takes Gary Lachman
to task
for the suggestion of Blavatsky's influence on Einstein. He has followed this with an
inquiry
titled "Did Helena Blavatsky Discover the Theory of Relativity before Einstein?" We are not sure Blavatsky ever claimed such a thing, and so all such inferences must rest on those who raise such matters. But there might be some reason for thinking so. Mark Morrison, Associate Professor of English, Pennsylvania State University, in his
Modern Alchemy: Occultism and the Emergence of Atomic Theory
(Oxford University Press, 2007) delves into "
the resurfacing of occult circles during this time period and how their interest in alchemical tropes had a substantial and traceable impact upon the science of the day.
" His book "
chronicles several encounters between occult conceptions of alchemy and the new science, describing how academic chemists, inspired by the alchemy revival, attempted to transmute the elements; to make gold
."
Examining scientists publications, correspondence, talks, and laboratory notebooks as well as the writings of occultists, alchemical tomes, and science-fiction stories, he argues that during the birth of modern nuclear physics, the trajectories of science and occultism—so often considered antithetical—briefly merged.
Egil Asprem has an insightful review of
Modern Alchemy
in
ARIES
2011.