*
One would not usually find Blavatsky's name connected with sports news, but here it is. HPB is mentioned in passing on the "College Sports Newswire" Boxscore News in a November 11 piece on "Canadian Hockey At War 1914-18." Attention is given to Conn Smythe and his role in making hockey Canada's national sport. His father, A.E.S. Smythe, General Secretary of the Theosophical Society in Canada, was recently the focus of an article in
The Journal of Canadian Studies/Revue d'études canadiennes
, Volume 44, Number 1, Winter 2010.
Constantine Falkland Cary Smythe was born on February 1, 1895 in Toronto to Albert and Amelia Smythe, a pair of Northern Irish immigrants who had arrived in Canada in 1889. Albert Smythe was a devoted member of the Theosophy Sect, a religious movement whose ideas of spiritualism and reincarnation were based upon the books of Madame Helene Blavatsky. The Smythes were not wealthy, though Mr. Smythe became editor of
The Toronto World
newspaper. His father ensured that Conn would mix in the best circles of Ontario society, having him educated at the elite private school, Upper Canada College, and then at the University of Toronto. Conn Smythe was an outstanding schoolboy and athlete, excelling at hockey.
*
The name of Alexander Scriabin has been a source of renewed interest in Blavatsky. A Ph.D dissertation from Yale University this year, "Alexander Scriabin's theurgy in blue: Esotericism and the analysis of 'Prometheus: Poem of Fire' op. 60" by Anna Gawboy looks at this connection a little closer:
This dissertation relates Prometheus to three source texts known to have inspired the composer. Friedrich Nietzsche's
The Birth of Tragedy
and Viacheslav Ivanov's symbolist essays collected in
By the Stars
provide insight into the work's theurgic function, and Helena Blavatsky's Theosophical magnum opus,
The Secret Doctrine
, supplies the work's esoteric narrative. The seven slow color stages in the luce [a lightboard created by Scriabin to accompany his music] correspond to Blavatsky's seven-stage conception of human evolution.
*
The Albuquerque Museum's exhibition "Sensory Crossovers: Synesthesia in American Art," on till January 11, 2011, takes a look at how that Russian attitude impacted American art. One reviewer notes
that
such synesthesia, the urge to paint sound and compose with color - as well as to taste shapes, smell light, etc. - seems a particularly Russian thing, or did at least in the pre-Soviet era. Scriabin's color-symphonies, Kandinsky's "improvisations," and all manner of elaborate invention—not to mention neo-spiritual movements such as Madame Blavatsky's Theosophy—spurred experiment in cross-media artwork throughout the western world about a hundred years ago.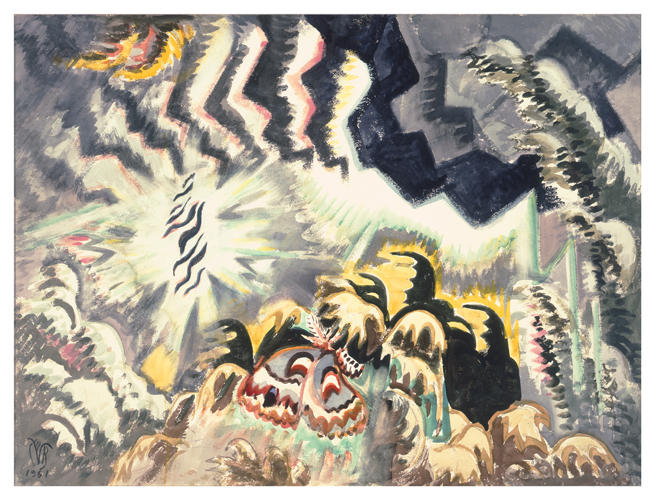 Charles Burchfield, The Moth and the Thunderclap, 1961